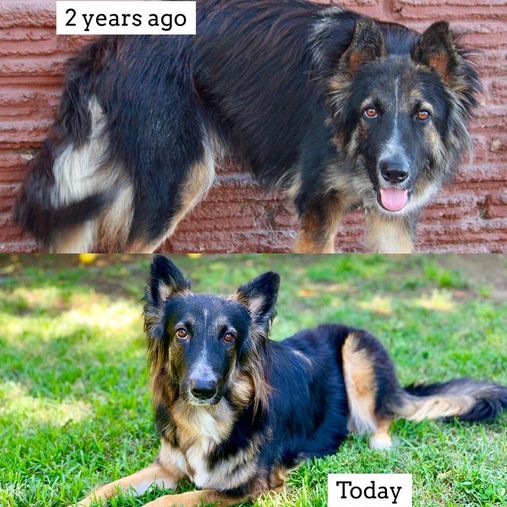 We adopted this girl two years ago. 🐾🤩 She's about 3 now. I went to a German Shepherd Rescue and they said she was highly reactive and she was. It didn't seem like most reactivity I see...it seemed more pent up energy so I was able to work with her a few days and decide. They said she was 2-4 years old and looked like she had a litter of pups. Clearly from her fur she was an outside dog. She had been picked up as a stray and she was all skin and bone. 3 days in I called and wanted to adopt her...but I honestly knew after our first walk. She exploded jumping and lunging and barking and a very well timed leash pop snapped her out of it and she looked at me surprised. That was it. She is now an easy peasy dog, a cream puff! It's not that she doesn't make bad decisions, but they are easy to influence when they do rarely happen.
The most interesting thing about her is she is the dog (temperament-wise) I knew existed...I just never owned one.
What I mean by that is I can spoil her and it doesn't really change her disposition. Of course she's more confident and relaxed with a more structured lifestyle, especially at her young age, but if I'm really loose with the rules and lots of cuddling, her great disposition doesn't change. She doesn't snowball to anxiety or reactivity again. She remains delightful and listens relatively well and doesn't start making bad choices without heavy leadership. Doing what we do at RBR, it's easy to forget dogs like that do exist. It's a blessing to have found her really and it's not a miracle…it's good genes.  
She was much younger then initially thought. More like a year old and likely had a phantom litter. Maybe because of that she was turned loose, deemed a bad dog for breeding, or simply an accident that she got free. We'll never know.
She was an adolescent puppy out of control with tons of energy and no understanding of "no". When you go to adopt a dog knowing how to teach yes AND no, know the rules you want to teach in your house, don't spoil them and mostly hold them the first few weeks, you will tap into so many incredible rescue dogs. But as a whole we are not setting up those dogs for success. If Dakota had just run rampant through her adolescence, her reactivity would have gotten crazy, never off leash reliable and may have been deemed a fun backyard dog because her excitement would have just been too much in the house...but she still would be a great dog, just not living her fullest life.  We come across that a lot.  People with the best intentions get rescue dogs and set them up to fail.  They seek out training after the "honeymoon period" of the dog settling into a house leads to bad behavior and they have no choice.  We are a last chance spot for many dogs with well meaning owners that wanted to save a dogs life and are faced with HUGE challenges that are affecting their life very negatively.  Many of these issues, like with Dakota, can quickly be stopped before they even get out of hand by teaching the right no and when to use yes.  It will save lives.
Many dogs in shelters have serious issues, caused by genetic and relationship issues, but there are so many Dakota's out there too and I hope that everyone experiences that, but adopts a dog responsibly by being prepared.  Good intentions simply are not enough.  This girl grows on me everyday and I'm so grateful for my easy cupcake dog...I may never have another.  To all the rescue dogs out there trying to find their way, I send my love.  To all of the potential owners, I hope to share this knowledge so I will see less dogs come through my doors (as a trainer)  with these intense behavioral issues that stem from a lack of understanding how to navigate the world around them. ❤️  
-Bethany Wilson
---